66 bulbs & fuse kit Cadillac 1954 1955 1956 1957 1958
66 pieces including 30 fuses and
over 35 bulbs from the factory manuals .
Some of these older bulbs and vintage glass tube fuses
are becoming hard-to-find.
keep in your trunk for emergencies or for general replacement!

interior and exterior bulbs included


This handy bulb kit is for your year and model!
A custom bulb kit fits the following:
Cadillac, & Eldorado,Seville 1953 to 1977
This kit is designed to replace all the exterior and interior small bulbs in your Cadillac
The bulb kit is for your Cadillac while the 30 fuses is an assortment from one to thirty-five amps.

Notes: on 1975 and up the kit may not incudes all the Step or Courtesy lites
on some 1957-59 models the special parking/turn signal bulb is not supplied(#1074)
2 Parking
2 Turn Signal
2 Marker Lamp*
2 Cornering light*
2 Taillight
2 Stoplight
2 back up
Radio Dial *
2 Step or Curtesy *
Brake Signal
Map*
License plate
misc. bulbs

Instruments(s)
Directional Signal
Dome
Trunk Compartment
Under hood*
Ash Tray*
Ignition Switch*
Glove Box
Clock
Auto trans Indicator
Hi beam indicator*

*if equiped
with this bulb
contains all the lamps and bulbs to replace the standard and most factory custom models as documented by the factory parts manuals.
all bulbs are factory fresh, and are in a plastic bag
the bulbs come from world-wide suppliers
for all applications, the most popular bulbs are supplied
The headlight, and any non-standard bulb (such as intergral flashing) are not included
To avoid any errors, and unpleasant surprises, it is our policy to double check with you for the proper application.
We will ask for the year and model of your car to guarantee you will receive the correct bulbs.
We have a 90 day "no questions asked" return policy and we maintain a record of your purchase for five years!
---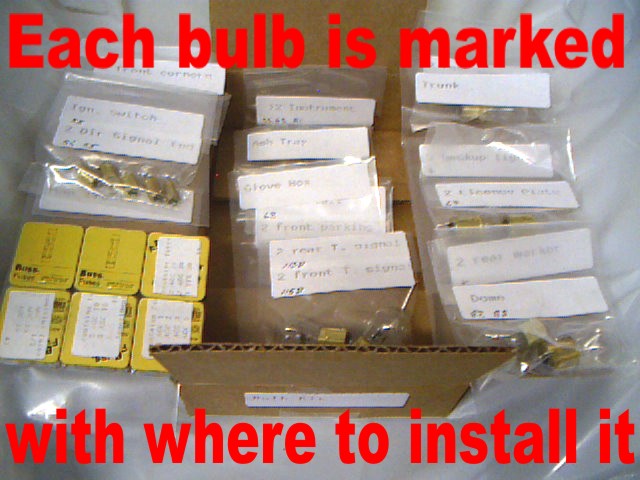 the fuse assortment is the most commonly replaced sizes as recommended by the manufacturer.
the assortment includes:
1 of AGC 1 amp.... 1 of AGC 2 amp.. 1 of AGC 3 amp. 2 of AGC 10 amp.. 2 of AGC 5 amp.. 2 of AGC 7 1/2 3 of AGC 15 amp.. 5 of SFE 14 amp. 5 of SFE 20 amp. 2 of AGC 25 amp.. 1 of AGC 35 amp 2 of AGC 20 amp. 2 of AGC 30 amp.. 1 of SFE 30 amp.. All fuses are made in USA by Buss manufacturing!Each fuse box is clearly marked with the contents.



Fits the following years: 53 1953 54 1954 55 1955 56 1956 57 1957 58 1958 59 1959 60 1960 61 1961 62 1962 63 1963 64 1964 65 1965 66 1966 67 1967 68 1968 69 1969 70 1970 71 1971 72 1972 73 1973 74 1974 75 1975 76 1976 77 1977