Brake hardware Oldsmobile 1957 1958 1959 1960 1961 1962
52 piece kit including springs with hold-down parts for all four wheels!.
about fifty cents a piece!

These kits are becoming hard-to-find and more expensive.


These Brake Drum Kits replace your worn, weak and stretched springs.
Remember, if any of this hardware fails, it lets the brake shoe drag, damaging the drum, and other parts.
Pick up a set now for future brake job!!
We ask for your application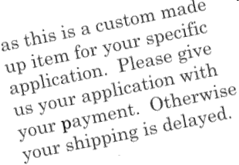 to double check

before

we ship!
for all full-size Oldsmobiles from 1942 to 1969 with drum brake on all wheels includes Custom Cruiser, Delmont, Delta, Dynamic, Jetstar, Royale, Starfire, 88,98 Cutlass F85,Jetfire, Vista Cruser 4-4-2 1964 to 1972
contains the following parts for all four wheels:
8 brake shoe return springs
4 brake adjuster springs
8 brake pins or anchors
8 top pin cups
8 bottom pin cups
8 pin springs
4 brake adjuster hole covers
The brake adjuster springs vary from 1942 to 1962. The spring in the kit is the most common brake adjusting spring. It is possible you many have to reuse your old spring for these years (this spring is usually in good condition as it moves very little in service).
The pictures are for illustration only. The kit shipped may look slightly different.
To avoid any errors, and unpleasant surprises, it is our policy to double check with you for the proper application.
We will ask for the year and model of your car to guarantee you will receive the correct spring kit.
We have a 90 day "no questions asked" return policy and we maintain a record of your purchase for five years!
Fits years listed:42 1942 43 1943 44 1944 45 1945 46 1946 47 1947 48 1948 49 1949 50 1950 51 1951 52 1952 53 1953 54 1954 55 1955 56 1956 57 1957 58 1958 59 1959 60 1960 61 1961 62 1962 63 1963 64 1964 65 1965 66 1966 67 1967 68 1968 69 1969 70 1970